In Memoriam: Ronald Reagan & Ray Charles
Two great men died this week. Each changed the world and left it a better place for his being here, although in drastically different ways. Unfortunately, I don't have the time at the moment to write a nice bio of each as I usually do for these posts.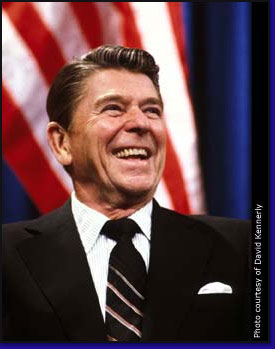 In the case of the first, Ronald Wilson Reagan, the 40th President of the United States, I can't add much that hasn't already been said many times this week. Look at his legacy. Look at his writings. (His Letter to America announcing his Alzheimer's diagnosis is typical of his optimism and love for this country.) Look at his love for his wife. He was a man of character who knew how to take responsibility for his actions - good or bad. (Contrast his handling of the Iran-Contra scandal with another President who tried to convince us that it "depends on what the meaning of the word 'is' is.")
Reagan's 1984 landslide re-election was the first election in which I voted. He was the man who made me take an interest in politics, who made me start paying attention to the world around me. In a strange dichotomy of emotion, I felt a sense of both pride and loss as I watched the procession of the caisson through the streets of Washington. It was a moment I'll not forget.
- - - - - - - - - -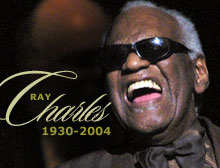 The other man who passed from us is Ray Charles, one of the few people that I would actually pay good money to see in concert. There's nothing to say about him. Listen to his music. If that doesn't say it all then I don't know what will. The impact and influence that he has had on the majority of the popular musical realm can't be overstated.
His rendition of America the Beautiful consistently gives me goosebumps.