As I write this, the central Kentucky landmark known around here simply as "The Castle" is in flames and the prognosis doesn't look so good.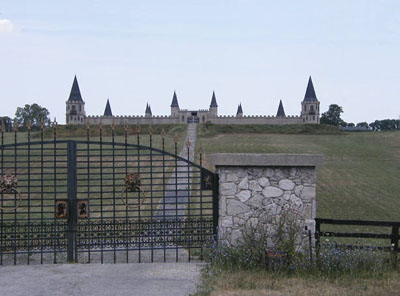 It has been a fixture on US60 between Lexington and Versailles for years. It was started in 1969 by Lexington home builder Rex Martin after honeymooning in Europe where he and his new bride, Caroline, fell in love with castles. Six years later, however, they divorced and The Castle was never completed.
At that time, not much was known about who owned it and why it was being built. Mystery surrounded it for years with many far fetched stories springing up to fill the void, some involving some of the biggest name celebrities of the day. Then, in 1988, a For Sale sign went up on the main gate. But stories abound of Martin never returning calls, even for serious inquiries. I personally heard price estimates ranging up to 11 million dollars, but no one really had a clue.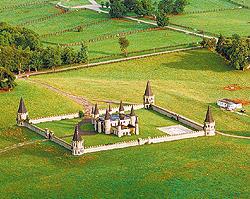 Rex Martin died in August 2003 and The Castle was recently purchased by a lawyer from Miami, Thomas Post. His plans for it were mostly unknown, but there has been construction happening inside the walls for about 3 months now.
Personally, I've been saying for years that the cities of Lexington and Versailles should buy it jointly (since all but straddles the border of the two counties) and turn it into an art museum.
More details in the morning when they are available.
Comments
Re: Alas for The Castle
Just for grins, here is a link to a <a href="http://terraserver.microsoft.com/addressimage.aspx?t=1&amp;s=10&amp;alon=-84.65259206225&amp;alat=38.045837281666664&amp;w=2&amp;ref=A%7cMartin+Castle+in+Versailles%2c+Kentucky&amp;Lon=-84.65259206225&amp;Lat=38.045837281666664">Terraserver image</a> from 1993.
---